Had the pleasure of fishing with my old Army buddy again B Parker out of Raeford in his boat
and Trigger22 and Sundrop in there boat. Time frame was Sept 5-6, 2009.
We hit the South River and caught plenty of menhaden for bait. We needed at ton cause we were out
to anchor and sit on em all night.
Got anchored up and first fish on a little after 6PM.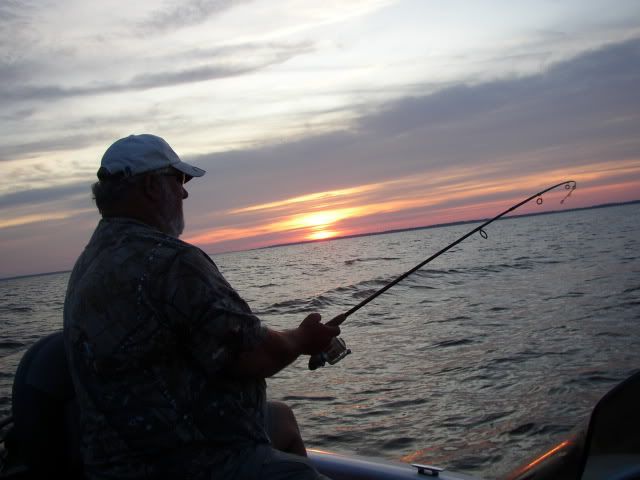 Fought this one right to dark. Just couldnt get him to the boat. Finally had him right there. I put some
extra pressure to him and heard the rod start to splinter. Bout that time it took a nose dive under
the boat and yep....rod broke. Got the fish back up and the only part of the rod left was the handle
and 1 eye. Just maybe....pulled the fish close to the boat by power pulling.. 1 last effort to
escape...dove under the boat and broke off. Oh well....still a great fight and this one won.
Winds started getting up and rolling waves pretty good on the river so we relocated. Fished and
nothing but bottom dwellers. Moved again and nothing. Decided to go back to position No. 1. Good move.
Trigger22 called and they had put a 42 incher on the deck, pics taken and fish released.
We setup again and the rod started buzzzzzzzzzing..yep nice one. Bobby grabbed the rod and
caught his first red drum ever...
Fish that follow.41 inches, 44 inches and 46 inches. Stayed till daybreak and called it a night. All reds were released to fight another day.
All were caught were from 1 -3AM, except for the 1st lost one.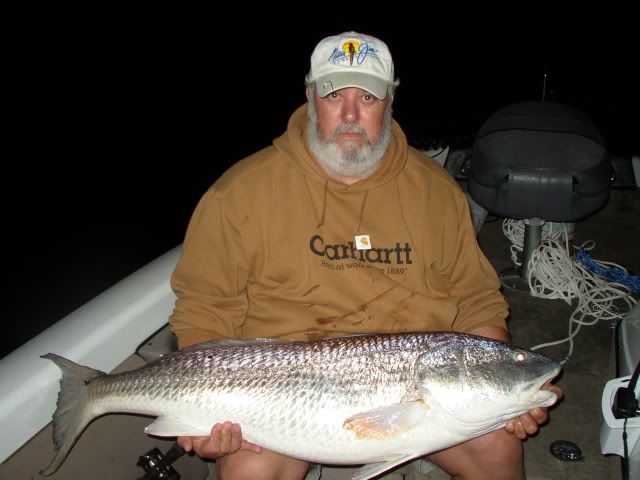 __________________