Quiet Professional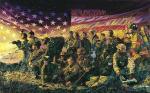 Join Date: Feb 2006
Location: Asscrackistan
Posts: 4,289
NPS Book Gangs & Guerrillas
---
Here is an interesting read on how City of Salinas and Naval Postgraduate School conducted an innovative collaboration that would lead to a safer community. Some lessons learned, something for many of use to think about and look at. If you are working NORTHCOM (SOCNORTH), USSOCOM, SOCCENT or even SOCSOUTH I think you would gain from reading this.
Quote:
In 2008, Salinas, California experienced 25 homicides, 93% of them attributed to gang activity. In 2009, they reached an all time high of 29 homicides, 100% of those were attributed to gang activity. The homicide rate per capita at that time mirrored the rates of much larger cities, such as Chicago and Boston. However, Salinas looks like more towns in America than those larger cities do, having a population of 146,000 and being economically driven by farming and agriculture; raising fears in surrounding cities that if gangs can take over here, they can take over anywhere. Gang violence had made a huge impact on this small farming town in America.

Limited resources, including but not confined to, two tax measures not passed by the voters, and the second lowest officer per capita rate in Monterey County, mandated that any solution would rely on new ideas and more effective use of existing resources. At that time, the City of Salinas and the Naval Postgraduate School, located in the adjacent city of Monterey, began to discuss an innovative collaboration that would lead to a safer community.

In March of 2009, a discussion took place at the Naval Postgraduate School between the Mayor of Salinas, the Provost of NPS, and experts in counterinsurgency from the Defense Analysis at NPS. During that discussion, it became apparent that there were many similarities between insurgent behavior and gang behavior – similarities warranting further analysis. Since that time, Defense Analysis staff, led by Dr. Hy Rothstein, have met with representatives of the City of Salinas on a regular basis in order to create a Strategic Implementation Plan for the City. Using military methodology, the first task was to formulate a Commanders Intent - in this instance, named the Mayor's Intent. It reads:

End State: A City at Peace - Teamwork between community based organizations, schools, concerned citizens, service groups, and law enforcement to provide positive alternatives for non-violent lifestyles and build mentoring relationships with youth who have the highest risk of gang involvement to ensure they become productive members of society.

Since that time ongoing meetings between the NPS team and representatives from various City and County government offices have driven the task of creating a Strategic Implementation Plan for the City of Salinas based on the goals of the representatives as well as the goals of the community. On April 4, 2011 the Strategic Working Plan for the City of Salinas was accepted by officials in Washington DC. The implementation plan, guided by military methodology will outline the tasks and measures of effectiveness for all of the agencies supporting that plan.

The book Gangs & Guerrillas is a result of this unique collaboration between agencies. As discussions progressed it became apparent that many theories in counterinsurgency and counterterrorism operations were based on human behavior and effective action plans given limited resources. As a result, experts from the Defense Analysis department at NPS were asked to write a few pages on their theories, models and ideas based on their own disciplines of political science, sociology, anthropology, communications, and more. The result is this collection of 3 to 4 page essays that we hope will be useful to small towns which, like Salinas, are plagued by urban insurgencies.
__________________
"Berg Heil"
History teaches that when you become indifferent and lose the will to fight someone who has the will to fight will take over."
COLONEL BULL SIMONS
Intelligence failures are failures of command [just] as operations failures are command failures."