I hiit up the Oriental, NC area off the Neuse River from Wednesday 10th thru Saturday 13th. Our main objective was to hit up some bull reds in the afternoon into the night and maybe chase some fish for the pan. We hit up some areas we have hit for the past 2 years and were not disappointed.. We put somewhere over a dozen in the boat for those 3 nights.
We had the a couple of buddy boats come out with us on a couple of nights. The others are ruint for life...
The fish ranged from 32 inches on the low side to 42, 44 and 46 inchers... nice reds.
Here are a few highlights.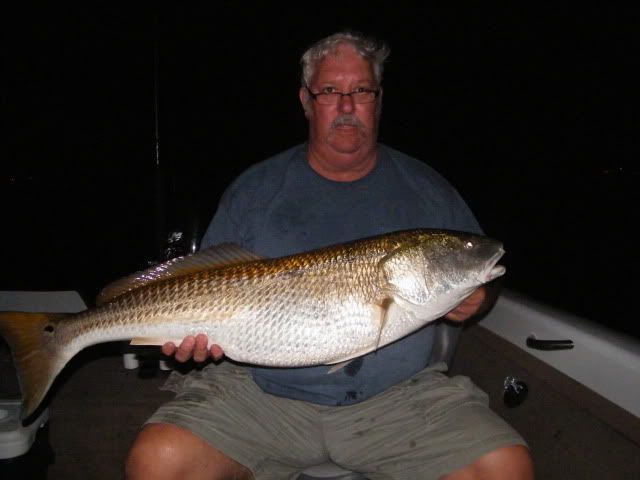 Have a blast out there if you are heading that way. If you need some more info,

give a shout and I'll see if I can steer you straight to some action.
The Neuse is full of reds and they are chewing. We tossed fresh caught menhaden caught in the river. Right now they are gnawing from Minnesott Beach out to the sound with reports of lots of fish still in the sound heading to the river. By the new moon the river should be full of gnawing reds.
We hit up the 12 foot breaks on major points coming out on the river and found loads of reds. Just about anywhere you anchor you can put a fish in the boat. Maybe one of those big bruiser cow nose rays...
Don't forget that you need to have circle hook rigs to fish from 7PM to 7am in that area chasing those brutes.
<*))))>{