Guerrilla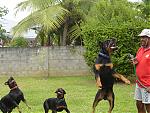 Join Date: Sep 2004
Location: North of the Kingdom of Brunei, South of Mindanao
Posts: 477
Indonesia Jihadist Maniacs
---
Indonesia's homegrown jihadis ridicule Isis after Jakarta attack

By Kate Lamb (in Jakarta)

As Abu Tholut sips on his guava juice, his wispy silver beard brushing against the glass, he mulls the state of global jihad and his not insubstantial role in it.

Three hours of mayhem, panic and bloodshed as terror comes to Jakarta

"Al-Baghdadi," scoffs the 54-year-old convicted terrorist, letting loose on his views of the leader of Islamic State. "When I went to Afghanistan in '85, he would have been just 14.

"We call him," he says with a smirk, "anak kemarin sore".

The phrase in Indonesian refers playfully but somewhat derogatorily to the new kid on the block – like a child born just "yesterday afternoon".

Tholut is seated with an entourage in a small restaurant in a suburban backstreet of Bekasi, a city 30km outside Jakarta, just months after being released from prison.

It was his second spell in jail for terrorism offences – in 2011 he was jailed for his involvement in a militant training camp – but he is now out on parole and is freely speaking his mind.

The backdrop to his remarks is an attack just weeks ago in the centre of the capital, which left eight people dead and dozens more injured.

Isis has claimed responsibility for the assaults near Jakarta's Sarinah department store, the worst terrorist attack in Indonesia since 2009.

In the world's largest Muslim-majority nation, home to a radical fringe of sometimes interconnected but oscillating jihadi networks, it has raised fears about the spectre of more to come.

Tholut – himself a former senior member of one of those networks, Jemaah Islamiyah (JI), the south-east Asian militant group behind the 2002 Bali bombings – has strong views about what happened on 14 January.

"We can see in the video that they seem to be thinking on the spot. They were both thinking: 'Where should we go? All right, you go there.' It's like they didn't plan things and planned on the spot instead. Then the police came, and they shot them. A traffic cop," he laughs.

The Sarinah attack was a laughable, bungled mess, he adds.

"Why did they bring a bomb into the parking lot, and then they just sat there? Who knows what they were doing, tinkering with it, then one sat down, and suddenly the explosion happened!" An animated Tholut pauses before laughing again: "What were they doing there?"

Aside from the oddity of hearing a convicted terrorist dissect the work of rookie jihadis over Nasi Padang (a banquet of small, spicy dishes stacked across the table), Tholut appears to have a point.

"Foreigners for the first time since 2009 are back on the agenda."


The Sarinah attacks were likely motivated by lethal, ideological convictions, but overall they were clumsy. The shooters struggled to hit targets even at close range. One attacker, seemingly by accident, killed himself as a bomb he was preparing to throw at police exploded. In total four attackers died and four civilians.

Many believe, though, that the lack of relative success of the attacks will not deter others in the future.

Since the deadliest terror attack in Indonesia – the Bali bombing that killed 202 people – there has been a string of smaller-scale attacks across Indonesia, among them a car bomb at the Australian embassy in 2004 and the bombing of the Ritz-Carlton and JW Marriot hotels in 2009.

In the years since, the police have been the main target, in retribution for damage authorities have inflicted on extremist networks.

But the evolution of Isis – and its attraction to the hundreds of Indonesians who have left their country to join it – has significantly altered the dynamics, with foreigners once again becoming targets.

Speaking at a recent forum in Jakarta, analyst Sidney Jones spoke of the changing nature of the targets.

"We are in, I think, for more attempts at violence. Unfortunately, the three groups that everyone is targeting are police, number one, and foreigners and Shia [Muslims] number two and three" said Jones, "Foreigners for the first time since 2009 are back on the agenda."

In the wake of Sarinah, the government has turned its attention to bolstering the country's counter-terrorism laws and thwarting planned attacks, but there are other glaring issues in the system that many believe desperately need to be addressed.

Competition between pro-Isis figures, flourishing extremism in Indonesian jails and the prospect of trained fighters returning from Syria are all factors of concern in Indonesia's extremist landscape.

Structurally the fragmented nature of Isis-aligned networks here is one reason why analysts like Jones believe there will be more attacks.

A leadership struggle has developed between three Indonesians who have joined Isis in Syria, and it appears to be driving a battle for control of the Indonesian and Malaysian wing of Isis, Katibah Nusantara.

The three Indonesians in question are Bahrumsyah – who currently heads the Malay-speaking fighting unit – Abu Jandal and Bahrun Naim.

"The competition between these three can have lethal consequences in Indonesia because how do you prove you are the person most deserving of leadership and acknowledgement? It's by organising your followers to do something," Jones says.

While it is believed the latest attack was locally organised at the behest of hardline cleric Aman Abdurrahman, the competitiveness between the three kicked in immediately after word reached Syria.

Bahrumsyah, who was apparently surprised by the news, ordered one of his contacts to conduct a similar assault directly after, according to a February 2016 report by the Institute for Policy Analysis of Conflict (Ipac). Police arrested the suspected would-be attacker before he had the chance to follow through.

Months earlier Bahrun Naim – who has organised a comprehensive jihadi committee on the encrypted messaging app Telegram – sent funds for attacks in Indonesia, and has tried to engineer lone wolf attacks in Malaysia and Singapore as well.

These threats and the Jakarta attacks have led the Indonesian president, Joko Widodo, to call for the country's counter-terrorism strategy to be revised.

Authorities have complained of the lack of legal framework to pursue would-be terrorists and there is a push to bring in more stringent laws by mid-2016. While support for Isis was criminalised in 2014, no current legislation outlaws travelling to join Isis.

At least 300 Indonesians have continued to leave for Syria – would-be fighters, families, women and children – but it is getting harder to get there. Last year alone 215 people were deported back to Indonesia, and tighter border controls have been cited as one possible explanation for the refocusing of jihadi energy at home.

If JI decides that this is the day to take action, they will do it. This is what the government is afraid of.

One of the biggest vulnerabilities is the Indonesian justice system itself, where hardline sentiment has grown and flourished.

In the months leading up to the Sarinah attack, each of the four perpetrators visited the maximum-security prison of Nusa Kambangan to meet with pro-Isis leaders. One of the Sarinah gunmen was released on terrorism charges last August, raising questions about recidivism and monitoring of convicted terrorists post release.

Meanwhile, lax controls inside Nusa Kambangan have also allowed jailed cleric Aman Abdurrahman to become a spiritual figurehead of the pro-Isis movement from behind bars.

A fluent Arabic speaker, Abdurrahman has translated streams of extremist doctrine into Indonesian, which is then widely circulated on hardline websites.

Days before the Sarinah attack he issued a much-shared fatwa calling for his followers to join Isis in Syria "and if you cannot emigrate then wage jihad with spirit wherever you are".
Advertisement

The freedoms enjoyed in prison have drawn criticism – even from senior hardliners in the Indonesian jihadi movement.

One is Abu Jibril, once second in command in JI.

"It is very free, he has laptops and cell phones. When I was arrested I wasn't allowed any of that," Jibril told the Guardian, comparing his own detention in Malaysia to Abdurrahman's. "You can translate all the news from Syria and thus help to form public opinion about Isis in Indonesia."

Jibril made the comments after speaking at a hardline event at a Bekasi mosque in late January, where he and Abu Tholut outlined their conception of an Islamic caliphate.

"The forming of a caliphate in Indonesia is inseparable from the global Islamic community," explained Jibril after his sermon. "The forming of a caliphate should be agreed by the Muslim community worldwide."

While both speakers are virulently anti-Isis, the event shows the old jihadi guard hasn't faded into oblivion just yet.
__________________
Nothing is easy in life..if you dont make a bloody effort to make things happen and to at least try to make it a success, then why bother living?
---
Last edited by hoot72; 02-11-2016 at

06:58

.